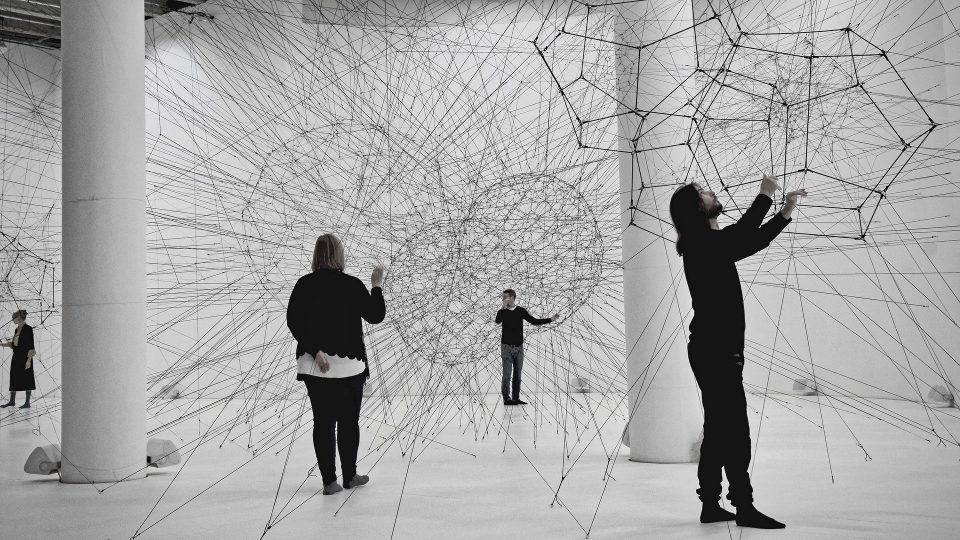 ROMA. Non c'è dubbio che i nuovi media superano i confini geografici, aumentano il volume e la velocità della comunicazione e portano le nostre interazioni a un livello altamente interconnesso e complesso (Feldman, 1997; Russell Neuman, 1991).
Alcuni autori sembrano essere positivamente entusiasti riguardo alle possibilità offerte dai nuovi media in una sorta di tecnofilia, mentre altri si sentono minacciati prevedendo un futuro pessimistico adottando un atteggiamento tecnofobico (Aristarkhova, 2007; Subtle Engine, 2014). Particolarmente interessante è la posizione del tecnorealismo (Shenk, Shapiro e Johnson, 1998): poiché le tecnologie non sono neutrali, l'approccio tecnorealista esamina in modo critico il ruolo che esse svolgono nel migliorare la qualità della nostra vita (Hafner, 1998; Shapiro, 1999).
Le nuove tecnologie e i nuovi media influenzano l'arte in termini di percezione, esperienza e produzione, poiché ampliano e diversificano la creazione artistica, l'esperienza del pubblico e le sue aspettative, aumentato l'accessibilità e hanno un grande impatto sui musei. Inoltre, sono sorte molte iniziative di digital learning nell'ambito dell'educazione artistica.
Per fornire un quadro d'insieme ho considerato riflessioni accademiche e professionali includendo artisti, insegnanti, critici e curatori, i quali hanno, seppur in modi diversi, dovuto ridefinire i loro ruoli alla luce dei nuovi media. Le sfide sono sia pratiche che teoriche: i professionisti devono saper padroneggiare competenze informatiche di base e saper trarre vantaggio da questa nuova comunicazione in termini di promozione e marketing; inoltre devono mediare la conservazione, l'acquisizione, il display e l'interpretazione considerando i nuovi media, e offrire al pubblico un'esperienza partecipativa e coinvolgente (Dorai e Venkatesh, 2001; Frieze, 2015; Duff et al., 2009; Golant Media Ventures, 2017).
Le nuove tecnologie consentono inoltre agli artisti di creare nuove forme di arte ricche di possibilità, convenzionalmente chiamate new media art. Il termine si riferisce a opere create con nuove tecnologie multimediali- come l'arte interattiva, digitale e virtuale- che rendono possibile l'espressione di un nuovo tipo di creatività (Gere, 2004; Cui, Guo e Wang, 2014). Gli artisti sperimentando costantemente con strumenti e software tecnologici. Il mezzo digitale spesso coinvolge il pubblico e ridefinisce i ruoli tradizionali di curatori e musei, che affrontano molteplici problemi in termini di policy, conservazione, selezione e display (Gandolfini, 2014; Cook and Graham, 2010; Dietz, 2006). A causa della loro natura, tali opere offrono nuove modalità di esperienza estetica, generando una "trasformazione permanente nell'utente" (Crowther, 2009, p162).
I media digitali hanno il vantaggio di divulgare l'arte oltre i contesti formali, e in ciò raggiungono un pubblico più ampio e nuovo, rendendo l'arte più accessibile e coinvolgente per tipologie di utenti diversi.
Pertanto, artisti e musei stanno implementando la loro presenza online per influenzare e comunicare con il proprio pubblico, condividere e distribuire i propri contenuti o opere attraverso siti web e social media come Facebook, YouTube, Snapchat, Instagram, ecc., competendo in maniera diretta con le altre forme di intrattenimento (Miranda, 2016; Jeffreys, 2015; Hannon, 2016). Secondo ICOM (2007) i social media influenzano i musei in termini di acquisizione, conservazione, ricerca, esposizione e comunicazione. Molti musei hanno persino sviluppato delle app, come Love Art (National Gallery) e Strawberry Thief (V & A).
Un'indagine condotta tra 1244 organizzazioni artistiche americane (Thomson, Purcell e Rainie, 2013) mostra che la maggior parte degli intervistati considera i nuovi media molto importanti per il fundraising e la promozione, per incrementare l'audience e aumentare il livello di coinvolgimento. Tuttavia, il 49 e il 22% dei partecipanti si preoccupano, rispettivamente, dell'impatto negativo che essi hanno sul livello di attenzione del pubblico e sul numero di presenze. Inoltre, il 74% di loro sottolinea una mancanza di personale o di risorse per quanto riguarda la gestione dei social media.
Da un lato, l'arte rischia di diventare uno strumento per ottenere like e condivisioni, soddisfacendo il narcisismo del pubblico che cerca gli artisti più instagrammabili (Williams, 2016; Whitehead, 2017). Dall'altro, questo manifesta un coinvolgimento con l'opera e può attrarre un nuovo pubblico, che chiede un'esperienza partecipativa piuttosto che contemplativa.
Il pubblico vuole essere coinvolto a livello interattivo e personale, e si aspetta che i contenuti siano disponibili in formato digitale (Napoli, 2010; Russo et al., 2007). Nelle esperienze partecipative il pubblico agisce come co-creatore o curatore; secondo Nina Simon (2010), la partecipazione promuove il valore sociale dei musei.
I nuovi media ampliano quindi l'accesso all'arte, in una sorta di democratizzazione della conoscenza, e promuovono una nuova cultura partecipativa che ammorbidisce la linea che separa l'opera dall'utente (Peppler, 2013; Nielsen, 2015).
AUTRICE: DINA FOGLIA
Dina Foglia ha conseguito una Laurea magistrale in Scienze filosofiche a Milano e una in Museums, Galleries and Contemporary Culture a Londra, insegna alle superiori. Ha conseuguito un Master in Scienze Filosofiche presso l'Università degli Studi di Milano e un Master in Musei, Gallerie e Cultura Contemporanea presso l'Università di Westminster a Londra, che le ha dato l'opportunità di lavorare come curatore.
Bibliografia
Aristarkhova, I. (2007). New Media and Aesthetics. Theory Culture Society, 24, 317-318. Available from https://www.academia.edu/4572885/New_Media_and_Aesthetics
Assuncao, P. and Primo, J.(2013). To Understand New Museology in the XXI Century.
Sociomuseology III, 37. Available from
https://framerframed.nl/wp-content/uploads/2011/08/SOCIOMUSEOLOGY-TO- UNDERSTAND-NEW-MUSEOLOGY-IN-THE-21ST-CENTURY.pdf
Bayne, S., Ross, J. and Williamson, Z. (2009). Objects, subjects, bits and bytes: learning from the digital collections of the National Museums. Museum and society, 7(2), 110-124.
Bertacchini, E. and Morando, F. (2013) The Future of Museums in the Digital Age: New Models for Access to and Use of Digital Collections. International Journal of Arts Management, 15, 60-72.
Black,G. (2005).The Engaging Museum:Developing Museums for Visitor Involvement. London: Routledge.
Bourdieu, P. (1979). Distinction: A Social Critique of the Judgement of Taste. Reprint 2002. Cambridge, MA: Harvard University Press.
Bourdieu, P., Darbel, A. and Schnapper. D. (1966). The Love of Art: European Art Museums and Their Public. Trans. by C. Beattie and N. Merriman, 1990. Stanford University Press.
Brulon Soares, B.(2009).The museological experience: concepts for a museum phenomenology. ICOFOM. Available from https://www.academia.edu/17135989/The_museological_experience_concepts_for_a_mus eum_phenomenology
Cameron, F. (2003). Digital Futures I: Museum Collections, Digital Technologies, and the Cultural Construction of Knowledge. Curator, 46 (3).
Cameron, F. (2005).Digital futures II: Museum collections, documentation and shifting knowledge paradigms. Collections, 1(3),243-260.
Ciolfi, L. and Bannon, L. J. (2007). Designing hybrid places: merging interaction design, ubiquitous technologies and geographies of the museum space. CoDesign, 3 (3), 159–180.
• Cook, S., Graham, B.(2010). Rethinking Curating: Art after New Media. MA: MIT Press
Crowther, P. (2009). Phenomenology of the Visual Arts (even the frame). Stanford: Stanford University Press .
Cui, W. , Guo, Y. and Wang, D. (2014). The Study of New Media Art Aesthetic . International Conference on Education, Language, Art and Intercultural Communication, 451-453.
Dewey, J. (1934). Arte come esperienza. Tran. By C. Maltese, 1960. Firenze: La nuova Italia
Dietz, S.(2006). Collecting New Media Art: Just Like Anything Else, Only Different. NeMe.
Available from http://www.neme.org/texts/collecting-new-media-art
Dorai, C. and Venkatesh, S. (2001). Computational media aesthetics: Finding meaning beautiful. IEEE multimedia, 8 (4), 10-12. Available from http://dro.deakin.edu.au/eserv/DU:30044307/venkatesh-computationalmedia-2001.pdf
Drotner, K. and Schroder, K. C. (2013). Museum communication and social media: the connected museum. New York: Routledge.
Duff, W. Et al. (2009). The Impact of Technology on Museum Work By Function. In: Museum Knowledge Workers for the 21st Century. Government of Canada: Canadian Heritage Information Network. Available from https://www.canada.ca/en/heritage-information- network/services/other-heritage-research-tools/museum-knowledge-workers-21st-century/ impact-technology-museums.html
Feldman, T. (1997). An Introduction to Digital Media. London: Routledege
• Frieze. (2015). How has art changed?. Frieze. Available from https://frieze.com/article/how- has-art-changed
Gandolfini, G. (2014).How Museums Are Dealing With New Media Art: Part 1. Arts Management & Technology Laboratory. Available from http://amt-lab.org/blog/2014/12/how-museums-are-dealing-with-new-media-art-part-1
Gere, C. (2004). New Media Art and the Gallery in the Digital Age. Tate Papers no.2 . Available from http://www.tate.org.uk/research/publications/tate-papers/02/new-media- art-and-the-gallery-in-the-digital-age
Golant Media Ventures. (2017). The adoption of digital technology in the arts. Evidence review: The Digital Innovation Fund for the Arts in Wales. Nesta. Available from https://www.nesta.org.uk/sites/default/files/difaw_gmv_e.pdf
Hafner, K. (1998). Battle Cry of the Technorealists. The New York Times, 12 Mar. Available from http://www.nytimes.com/library/tech/98/03/circuits/voices/12real.html
Hamma, K. (2004). The role of museums in online teaching, learning, and research. First Monday, 9 (5). Available from https://journals.uic.edu/ojs/index.php/fm/article/view/1146/1066
Hannon, K. (2016). Museums, the New Social Media Darlings. The New York Times, 28 Oct. Available from https://www.nytimes.com/2016/10/30/arts/design/museums-the-new-social- media-darlings.html
ICOM (2007). Museum definition. ICOM. Available from http://icom.museum/the-vision/museum-definition/
Jeffreys, T. (2015). Can art exist on social media?.Apollo. The international art magazine, 30 Nov. Available from https://www.apollo-magazine.com/can-art-exist-on-social-media/
Kelly, L. (2007). Visitors and Learners: Adult museum visitors' learning identities. In: ICOM- CECA Conference 2007.Vienna. Available from https://australianmuseum.net.au/uploads/documents/9316/paper%20ceca%202007.pdf
Kelly, L.(2002). What is learning… and why do museums need to do something about it?
Why Learning? University of Technology, Sydney, 2002.
Kelly, L. and Groundwater-Smith, S. (2009). Revisioning the physical and on-line museum.
Journal of Museum Education, 34(1), 55–68.
Kotler, N. and Kotler, P. (2000).Can Museums be All Things to All People? Missions, Goals, and Marketing's Role. Museum Management and Curatorship, 18(3), 271-287.
Krauss, R. (1990). The Cultural Logic of the Late Capitalist Museum. The MIT Press, 54, 3-17
Latham, K.F. (2015). What is 'the real thing' in the museum? An interpretative phenomenological study. Museum Management and Curatorship. 30 (1), 2- 20. Available from https://doi.org/10.1080/09647775.2015.1008393
Leddy, T. (2009). Dewey's aesthetics. Stanford Encyclopedia of Philosophy. Available from https://plato.stanford.edu/archives/spr2009/entries/dewey-aesthetics/
Marty, P.F. (2007). Museum websites and museum visitors: before and after the museum visit. Museum Management and Curatorship, 22 (4), 337-360. Available from https://www.tandfonline.com/doi/abs/10.1080/09647770701757708
Masberg,B. A. and Lois H. Silverman, L.H. (1996). Visitor Experiences at Heritage Sites: A Phenomenological Approach. Journal of Travel Research, 34(4), 20-25. Available from http:// journals.sagepub.com/doi/abs/10.1177/004728759603400403
McCall, V. and Gray C. (2014). Museums and the new museology: Theory, practice and organisational change. Museum Management and Curatorship, 29 (1), pp. 19-35.
Miranda, C. (2016). Social media have become a vital tool for artists- but are they good for art?. Los Angeles Times, 24 Jun. Available from htt p://www.latimes.com/entertainment/arts/miranda/la-et-cam-is-social-media- good-for-art-20160517-snap-htmlstory.html
Napoli, P. M. (2010). Audience Evolution: New Technologies and the Transformation of Media Audiences. New York: Columbia University Press
Nielsen, J.K. (2015). The relevant museum: defining relevance in museological practices. Museum Management and Curatorship, 30(5), 364-378. Available from http://dx.doi.org/10.1080/09647775.2015.1043330
Peppler, K. (2013). New Opportunities for Interest-Driven Arts Learning in a Digital Age.
Wallace Foundation. Available from
http://www.wallacefoundation.org/knowledge-center/Documents/New-Opportunities-for- Interest-Driven-Arts-Learning-in-a-Digital-Age.pdf
Ross, M. (2004). Interpreting the new museology. Museum and Society, 2 (2), 84-103.
Russell Neuman, W. (1991). The Future of the Mass Audience. Cambridge: Cambridge University Press.
Russo, A., et al. (2006) How will social media affect museum communication?.In: Nordic Digital Excellence in Museums (NODEM) conference, 2006. Oslo.
Russo, A. et al. (2008). Participatory Communication with Social Media. Curator, 51(1), 21- 31.
Russo, A., et al. (2007).Social media ad cultural interactive experiences in museums. Nordisk Museologi, 2007(1), 19-29. Available from http://www.nordiskmuseologi.org/English/ANGELINA%20RUSSO.pdf